This page was last updated on: April 11, 2009
Click to link to the following

Orchard Lea

one of Leverstock Green's

Lost Properties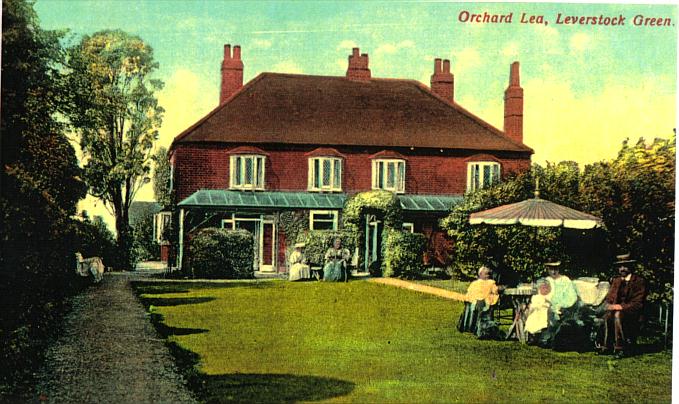 Orchard Lea was a large Victorian house situated along Tile Kiln Lane.  During its century or so of existence, it had three different names: Bennetts End Lodge, Bennetts End House and Orchard Lea. As Bennetts End Farm also became known as Bennetts End House this was somewhat confusing.

The House was built some time between 1840, the time of the tithe map on which it did not appear, and the first edition OS map in 1877 (below) when it was shown as Bennetts End House.  Access to the house was from the upper dogleg section of Tile Kiln Lane, with the enclosed garden running down to Tile Kiln Lane.  Until Spring 2005 the remnant of the easterly garden wall could still be seen from Tile Kiln Lane.  What was probably the coach house and stables was shown on the map at the head of the driveway, the bulk of which can be seen in the photograph of the house.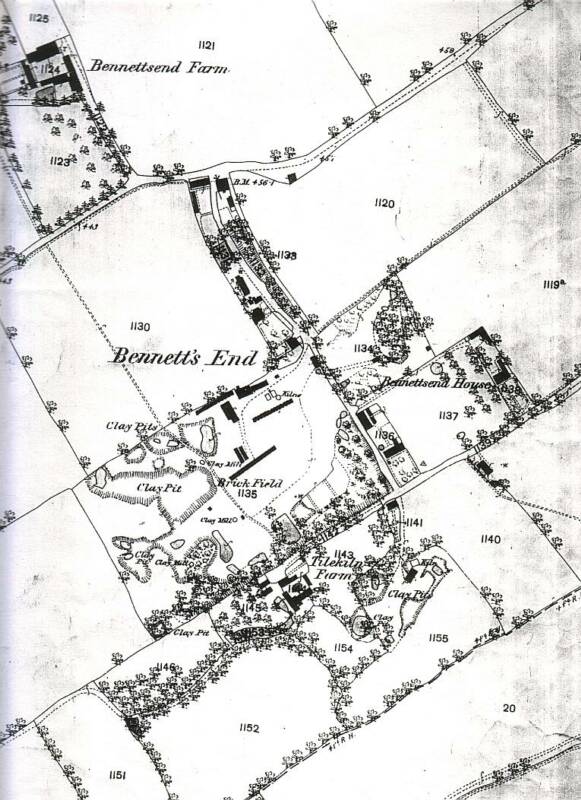 The 1851 census doesn't give any indication as to whether or not Bennetts End House or Lodge existed; but given the occupation of the heads of household at Bennetts End (all brick-makers labourer) I'm inclined to think not.

The 1881 census, though unspecific, suggests that George William Talbot, his wife and daughter may have lived there, as his occupation was given as an unemployed gamekeeper, and his wife a former school teacher.  They were the only residents not involved with brick-making, and perhaps unemployed in this instance means he had taken early retirement.

The 1901 census is more forthcoming mentioning Bennetts End House as it then was by name. Albert Western, 58, a Coachbuilder who originated from Exeter in Devon, and his wife Esther occupied it. As Albert was noted to be an employer we can assume his coach-building business was carried on elsewhere.

By 1910 the name had changed to Orchard Lea and the occupant, according to Kelly's Directory, was Bonomy Panmore Eykyn.  By 1905 the above photograph had been taken, originally in black and white, and it may be assumed that the picture shows either Mr Western's family or Mr Eykyn and family.

Kelly's Directories of 1912 & 1917 show a Colonal Charles William Ernest Duncombe VD JP to reside at Orchard Lea.  He later sold the property to John Arthur Marston, who according to 1922 Kelly's directory, changed the name to Bennetts End Lodge.  However, for whatever reason he changed the name back to Orchard Lea in 1926.  Marston took an active part in village affairs and in 1931 was appointed one of the Parish Hall Trustees, simultaneously acting as treasurer for the Hall Management Committee, a position he had held for some time.  In 1937 he was appointed secretary to the Trust, resigning as a Trustee  in 1939. As Dr. John Gregory was later on in 1939 resident at Orchard Lea, I conclude Mr. Marston sold him the property on leaving the area.


For 1898 OS map click here.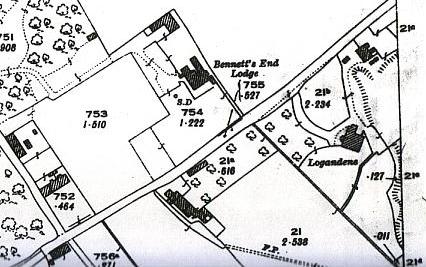 Extract from 1925 OS 25":1 mile map showing Bennett's End Lodge - Later known as Orchard Lea.

The Gregory's were the last family to reside at Orchard Lea.  Dr. Gregory or "Greg" as he was affectionately known, was well known locally, nationally and internationally. A Yorkshire man by birth, not only was he a brilliant local GP, in 1936 he was appointed physician to the West Herts. Hospital, in charge of medical and maternity beds.  He was particularly renowned for his work as medical Head of St. Paul's Maternity Unit.  But it is outside Medicine that he is perhaps better known.  A brilliant tennis player, Dr. Gregory was to die suddenly after playing tennis at Wimbledon in January 1959, aged 55.  He had previously played tennis for England and Captained the Davis Cup. He also helped to establish a new hard court at Leverstock Green, and can be seen here at its opening in 1949. (For more details on Dr Gregory visit the following webpage: http://www.lgchronicle.net/Gregory.html )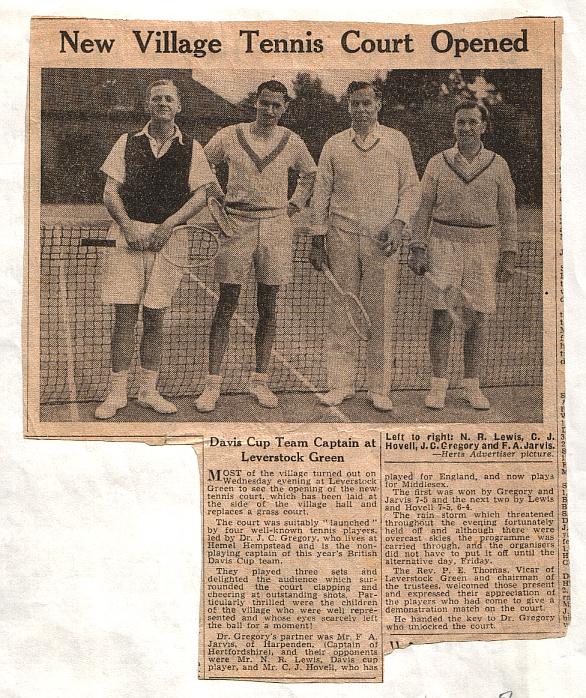 Before his death, Dr. Gregory had obviously sold off much of the land surrounding Orchard Lea, as the following advert in the Gazette the week following his death shows:

New houses on the ORCHARD LEA ESTATE TILE KILN LANE.  Only few left - through lounge, excellent kitchen (with refrigerator) 3 beds, bath, good garden, garage all services £2850. [Gazette 16th January 1959] 

The House itself was later sold by his widow, and again new houses built on the site. By the year 2001 these same houses were selling at approximately one hundred times that figure, and have subsequently increased still further.