A

ABBISS

ABBOTT

ALLEN

ALWOOD

ASHWELL

ATTWOOD

AXTELL

B

BAILEY

BARNES

BARNS

BEEK

BENNETT

BLEC

BOULTON

BOWRA

BOYS

BRADWIN

BREWER

BRIANT

BRIDGE

BRITAIN

BROWN

BUCKINGHAM

BUCKOAK

BURAGE

BURGESS

BUTLER

C

CARPENTER

CARTER

CATLIN

CHARGE

CHILD

CHUTTER

CLARKE

COLE

COLMAN

COOCK

COOK

COOPER

D

DANCES?

DANES

DEAR

DELL

DIMMOCK

DIXON

DOGGETT

DOLLING

DOLT

DRAPER

E

EAST

EASY

EBBERN

EDMONDS

EDWIN

ELBORN

ENGLAND

EVANS

F

FARINGBOROUGH

FINCH

FINDELL

FOSTER

FRANKLIN

FREEMAN

FRIEND

G

GEORGE

GIFKINS

GINGER

GURNEY

H

HALE

HALL

HALSEY

HANNELL

HARDING

HARROWELL

HART

HAWKINS

HEADECH

HEMLEY

HERRIDGE

HOLDSWORTH

HOLLAND

HOW

HOWLETT

HUTCHINS

J

JAMES

JEFFERY

JENNINGS

JOINER

KARL

KENT

KENTISH

KIFFORD

L

LANE

LATCHFORD

LEA

LEE

LINFIELD

LONNON

LOVELL

LOVETT

LUCK

M

MARTIN

MATHEWS

MILLARD

MOSS

MUCKLE

MUN

N

NORWOOD

O

ODELL

ORCHARD

OSTLER

P

PAGE

PANGBORN

PARKER

PARKINS

PARTRIDGE

PEARRY

PEAT

PEDDER

POINTER

PUNTER

R

RACKLEY

RICHARDSON

RICKETT

ROLPH

ROSE

S

SAUNDERS

SCRIVENER

SEABROOK

SEARS

SEGROVE

SELLS

SHEPHERD

SHUFFIELD

SIMMONDS

SIMMONS

SIMONDS

SIRFIELD

SLOW

SMART

SMITH

SOUSTER

SQUIRE

STEVENS

T

TARBOX

TRAVELL

TRIPP

TURNER

W

WAITE

WALLER

WARD

WARNER

WEBB

WELLS

WHITE

WHITEHEAD

WILKINS

WILLSON

WINCH

WINGROVE

WOOD

WOOLCOTT

WRIGHT

THE LEVERSTOCK GREEN CHRONICLE

ACKNOWLEDGEMENTS & COVERAGE

I would like to acknowledge here the debt I owe to Professor Nigel Goose of the University of Hertfordshire and the Centre for Regional & Local History. (Previously known as the Hertfordshire Historical Resources Project.)  Without the work done by the professor and his team (many of whom are volunteers) the information I am publishing here on this page would not exist. Click here to go to their website.
One of the main tasks of the project has been to transcribe and enter onto a computer compatible format (Microsoft Excel) the 1851 census returns for the County. These were then analysed by Professor Goose. The first results to be published were those of the Berkhamsted Superintendent's Registrar's District and was published in 1996: Population, economy and family structure in Hertfordshire in 1851 - Volume 1, The Berkhamsted Region, by Nigel Goose. - Vol. 2: Population, economy and family structure in Hertfordshire in 1851 - Volume 2, St. Albans and its Region,  was published in Sept.2000 ISBN0-900458-83-6.  In total the series will run to 12 thick volumes.  For details of how to purchase any of the published books, and floppy discs of data from the University contact Professor Goose at  N.Goose@herts.ac.uk or his assistant Sheila Jennings at S.A.Jennings@herts.ac.uk
UH Press (click here for webite) also publishes a series called Regional & Local History, and has also taken over Herts Publications from the HALH/County Council.   (Click here for Herts Publications website.)
As the money generated from the books and donations received for data on floppy discs is helpful in continuing the funding of the work of the Centre, it is not my intention to simply publish here the information otherwise obtainable from the Professor's publications.  However, the Leverstock Green area is I believe fairly unique in the county in that the area which was to become the Parish of Leverstock Green was still a consolidated chapelry at the time of this census, and the returns are contained within three separate original parishes and three separate volumes namely St. Michaels ( St. Albans) - Vol. 2; Hemel Hempstead (Vol. 7) & Abbots Langley (Vol. 10 Watford & its Region).  It is my intention therefore to amalgamate the relevant figures from the three regions to create a picture of Leverstock Green in 1851.  However I shall not merely post on the web the resulting spreadsheet, instead I would urge those who wish to use the information for their family history researches to purchase a floppy disc with the details on from UH.  I will however, endeavour to show the population trends within the village of Leverstock Green in 1851 as I understand them.

I have, however, posted a list of the family names (to the left) which occur in the census returns.  These are the family names which occur within the area of interest to me in my study of Leverstock Green's history and DO NOT include details from Nash Mills and Pimlico, both of which were within the chapelry and original parish of Leverstock Green; nor do they include dwelling addresses given as being within High Street Green, many of which were also within the chapelry adn ecclesiastical parish.  I excluded the latter largely because at the time of requesting information, I did not perceive this area as being within Leverstock Green.  However, when studying the 1881 census I did include the High Street Green areaas Kelly's Directories and other sources made specific reference to the Norris and Ellingham Brickyards as being within Leverstock Green. (See 1881 census when published.)  See also map of parishes within the area of study.      
Later census returns (reported in Kelly's Directories) will therefore give a much higher number of residents within the parish until the formation of the Parish of Apsley End, and even then will reflect a slightly higher number for comparison, especially as what is now the neighbourhood of Adeyfield was also included within the Parish Of Leverstock Green until the team parish of Hemel Hempstead was created.  The 1901 census returns were undertaken within Civil parishes, and in the case of Leverstock Green,within the enumeration district within each civil parish which corresponded to the ecclesiasticalparish of Leverstock Green. Click here to see details of the 1901 census. Later twenty-first century census figures are based on the Leverstock Green electoral ward which discounts much of present day Bennetts End, some residents along Westwick Row and those within the Civil Parish of Nash Mills, and so is a slightly smaller area geographically than my area of study.

Barbara Chapman

POPULATION FIGURES AND SPREAD BETWEEN THE THREE PARISHES

As can be seen from the table and pie-charts the total population for the Village of Leverstock Green in 1851 was 746  spread between 155 households. This was split between the three parishes unevenly, with the greater proportion  almost half- being within St. Michaels.  As the original Manor of Westwick, focused along Westwick Row was also within St. Michaels this is hardly surprising, with larger numbers of dwellings other than the major farm houses having developed either along Westwick Row or alongside the green in the central area of the village to the north of the Berkhamsted Highway. (Today's A4147)

These figures for the village were to remain fairly static until the post-war years and the development of the Newtown, with the census of 1931 showing a total figure of 804.  Much higher numbers were reported at the latter part of the 19th century when Leverstock Green parish was first formed and covered a very wide geographical area including Nash Mills, Apsley and present day Adeyfield as well as Leverstock Green Village.

Those members of the population within the parishes of Abbots Langley & Hemel Hempstead were generally based at the major farmsteads such as Leverstock Green Farm, Northend Farm, Wells Farm,  Cox Pond, Woodlane End, Tile Kiln  & Bennetts End Farms.  The major exception being the meagre houses which had grown up in the Tile Kiln and Belconey (or Balcony)area largely to service the growing Brick & Tile Industry.

As can be seen from the pie-charts the divisions between the parishes in terms of population and households is almost identical.

This page was last updated on: April 11, 2009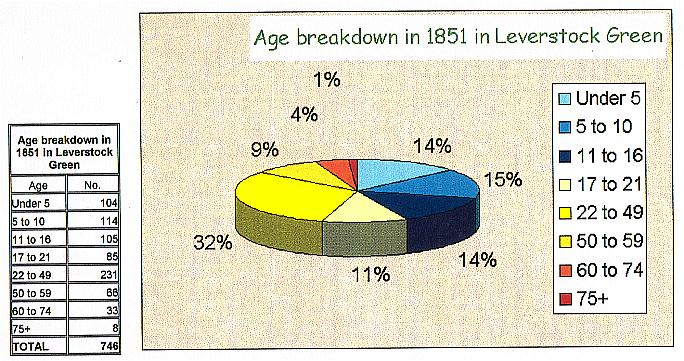 AGE ANNALYSIS FROM 1851 CENSUS RETURNS FOR LEVERSTOCK GREEN

As can be seen from the table and chart above, the population of the village of Leverstock Green in 1851 was a relatively young one, at least by the standards of the 21st century.  If you survived the first five years of life in mid nineteenth century Britain, you could expect to live to about the age of 50. Today infant mortality is very small and general life expectancy is 75 years of age for men and 80 years of age for women.

With infant mortality high, no antibiotics and no sure method of contraception, couples had large families, but would expect some of them at least not to survive childhood.  The school log books, although not available until a later period, testify to the numbers of children who died from diseases such as scarlet fever, whooping cough, measles, influenza and infected wounds.  The burial registers for Leverstock Green began in 1850, and from the registers for 1851 we can see that of the five burials which took place in Holy Trinity's churchyard in 1851 three were of children: one aged 5 weeks, one aged three and one aged 13. [This would not have constituted all the deaths for 1851, as many would have still been buried in the churchyards of the three original parishes or in the non-conformist burial grounds in Hemel Hempstead and St. Albans.] The other two burials were of a 77 year old man and a 37-year-old woman.

The census returns for 1851 show that nearly half (43%) of Leverstock Green's population was 16 and under with 86% of the population being under 50.  Approximately one third (32%) were between 22 and 50, so that it is reasonable to deduce that it was this third of the population who were the principle breadwinners and carers for the rest of the population.  This is born out by careful examination of the occupational breakdown below, which shows a total of 319 jobs in the five principle categories of occupation. (Agricultural, Trade, Professional, Industrial and In Service.) Out of a total population of 746 for the village this represents 42%.  The additional 10% in employment being either children or those over 50. (N.B. In reality the figures will differ slightly owing to the small number of persons listed as having two or more occupations.)

[S73, S76, S362, S368, S369]

ANALYSIS OF OCCUPATIONS IN LEVERSTOCK GREEN ACCORDING TO THE 1851 CENSUS

Not every entry in the census includes details of the occupation of the person concerned.  This is usually due to the fact the entry refers to a child, or to a housewife who is deemed not to have an occupation!  In addition some occupations are a little vague e.g. Farmers' daughter/son/wife  from which I think we can assume that the person concerned didn't necessarily work full time on the farm, but helped out where necessary and considered appropriate.  We cannot necessarily assume that what is meant by one particular occupation today may have had the same meaning in 1851. For example scholar generally meant the child/young person concerned was at school (not compulsory at this stage); whereas today it would more usually refer to an undergraduate or University academic.  Similarly School Master or Mistress need not necessarily refer to a professional teacher in the 21st century understanding of the term, but particularly in this part of the country could refer to someone who ran a "plait school" where a little reading and number may have been taught, but which primarily was concerned with straw plaiting.

Having said all that, the tables of occupations listed below are based purely on the entries as listed, without making any assumptions concerning the real nature of the occupation.

It is also worth noting that some individuals are listed as having more than one occupation:

·

John Edwin aged 43, was a Land proprietor & farmer of 50 acres
·

Joel Howlett aged 37 was a Grocer, Beershop keeper (The Crabtree) and Dealer
·

William Easy aged 56 was a Tailor & Schoolmaster
·

Benjamin Balby aged 41, was a Gardener & Coachman (for the Vicar)
·

Sarah Sear aged 25, was a Housekeeper & Straw Plaiter
·

Vincent Cook aged 38, was a Boot & Shoemaker & Victualler
Please Note: For the purposes of the list of occupations below, each occupation is listed separately, so that in the last example given above, Vincent Cook was counted twice, as one of 2 victuallers and one of 5 boot & shoemakers.

As can be seen from the table below, the occupations of the residents of Leverstock Green in 1851 can be put into 6 main categories:


·

Agricultural workers

·

those in service

·

those working in a professional capacity

·

those in a trade or craft

·

those in industry

·

others
By far the greatest proportion of those in work are concerned in agriculture in one form or another, and even those trades and crafts which are represented can often be said to complement the agricultural industry.  For example horses were still needed to work the land, so that it is not surprising to find three blacksmiths and a further Journeyman Blacksmith. There were in addition three industries in which Leverstock Green residents were employed: The Paper Making Industry, with John Evans, John Dickinson's second in command and son-in-law resident at Chambersbury at the time. (See entries for  Sept 12th 1850); the rapidly expanding brick and tile-making industry (see entry on Brick making in the Leverstock Green Area) and the Straw Hat making industry which employed hundreds of outworkers in Hertfordshire, particularly straw-plaiters.

( See also the Gazette's item on the local straw-plait industry and Chris Reynold's article specifically on straw-plaiting in 1851:http://www.hertfordshire-genealogy.co.uk/data/occupations/straw-plait-1851.htm) Manufacturing industry in the form of brick & tile making was becoming increasingly important, but was not undertaken on a factory scale as cotton and linen weaving were in the north of England.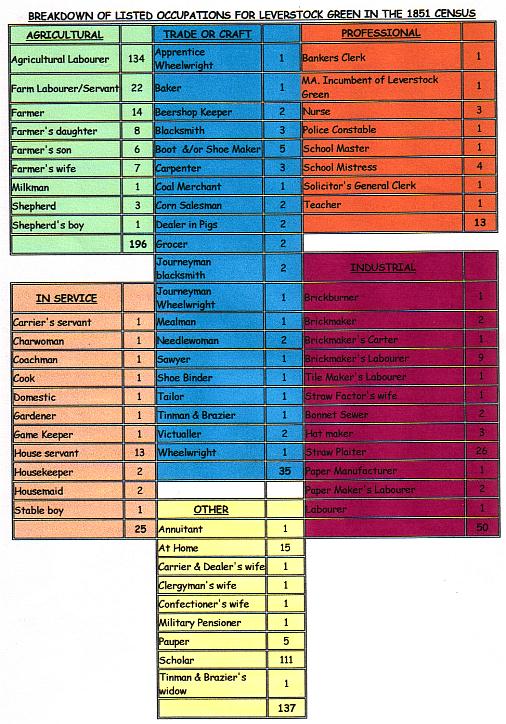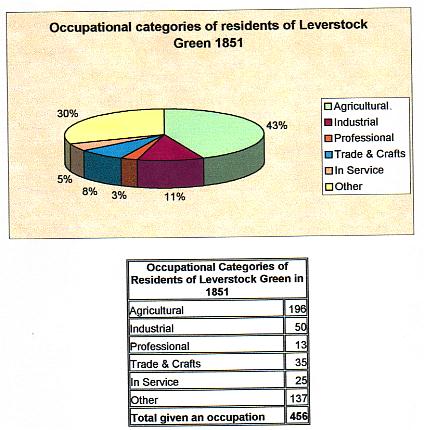 FARMERS

With work on the land the chief source of employment in the area, it is interesting to look at precisely who the main farmers employing the local agricultural workers were. (For map showing principle dwellings including farms in Leverstock Green click here.) The census reveals the following fourteen farmers:



·

Thomas EBBERN aged 23, who farmed 23 acres just north of Balcony and also made a living                        

   as a coal merchant.


·

John EDWIN aged 43 who farmed 50 acres at TILE KILN FARM and considered himself a                                           Land proprietor. (Perhaps as well as the farm he had properties elsewhere from which he                                        received rents which formed part of his income?)


·

William JENNINGS aged 43 who farmed 97 acres and employed 4 men at BENNETTS END FARM


·

John GEORGE aged 53, who farmed 291 acres and employed 13 men at COX POND FARM


·

Mark P. WOOD aged 40 who farmed 98 acres at WOOD LANE END FARM and employed 5 men.


·

Charles ORCHARD aged 54, who farmed 230 acres and employed 4 men at WOODWELLS FARM


·

George   DANES who farmed 319 acres and employed 12 labourers at WESTWICK HALL FARM


·

Daniel HEADECH who farmed 145 acres and employed 2 labourers in   WESTWICK ROW


·

John SAUNDERS aged 63, who farmed 162 acres and employed 3 men in WESTWICK ROW


·

Thomas ORCHARD aged 58, who farmed 90 acres at BOTTOM HOUSE FARM, GREEN LANE and                                 employed 4 men.


·

Joseph FINCH aged 54, who farmed 260 acres and employed 9 labourers at CORNER FARM,                                      WESTWICK ROW


·

John SAUNDERS aged 85, who farmed 82 acres at HIGH WOODHALL FARM with 2 men.


·

William SMITH aged 49, who farmed 70 acres and employed 2 men at NORTH END FARM


·

Alfred ORCHARD aged 40, who farmed 144 acres at WELL FARM employing 3 men.


·

Joseph SMITH aged 49, who farmed 60 acres at LEVERSTOCK GRREN FARM employing 3 men
BEERSHOP KEEPERS & VICTUALLERS

Another interesting fact revealed by the census returns for 1851 is the number of Beerhouses and Public Houses, together with those that ran them.  The census does however, show up a couple of anomalies.  The ROSE & CROWN, (click here to find out more) situated on the green was known to be a licensed Public House from the 1820's and was still listed in Kelley's Directory, together with its licensee in 1860.  However, there is no mention of this hostelry or its licensee, though it is possible it might be Vincent Cook, who also gave his occupation as a Boot & Shoe Maker & Victualler in Leverstock Green.   I suspect the problem for those undertaking the census return, was that the property was officially half within one parish and half within another.
The other anomaly is that of THE WHITE HORSE. - W. Branch Johnson in his book Hertfordshire Inns Part 2, Pub. 1963, states that the White Horse was licensed to a James TRAVELL in 1851. Closer inspection of the census returns reveals that James Travell was indeed resident at the White Horse Beerhouse, put he gave his occupation as  a "Dealer in Pigs etc."  Similarly the licensee of the Three Horseshoes Beerhouse gave his occupation as a "Corndealer". Using all the available information it would seem that the following hostelries were open for business in 1851:




·

PLOUGH & HARROW ( now just the Plough, at Balcony)  Beershop  William ENGLAND



·

HONEST COAL CARTER ( also near Balcony, possibly later  The Bricklayers Arms) 




                                                                Beershop  William DELL



·

CRABTREE -  Beershop  Joel HOWLETT



·

THE RED LION  PH  William WARD



·

THE LEATHER BOTTLE  PH  William WINGRAVE



·

THE THREE HORSESHOES  Beershop  Thomas COOPER



·

THE WHITE HORSE  Beershop  James  TRAVELL



·

THE ROSE & CROWN  PH - ? Vincent COOK
CHILD LABOUR IN LEVERSTOCK GREEN IN 1851

Just under half of the children included in the census were not given an occupation, and of the rest a further third were listed as scholars.  Leverstock Green was extremely fortunate in that it had its own school at this time, it having being established by the Curate of Abbots Langley parish in 1846.  (See entry for 1846 & photograph of the school)  The original schoolhouse still stands today as a private residence opposite the church.  Never the less this schooling still cost parents approximately 9d a week, a considerable sum for a poorly paid agricultural worker to find.  Although we don't have any school log books until 1863 (click here to view transcripts), the entries in the early log books we do have, coupled with the large number of children listed as being scholars, suggest that at least the younger children received a more or less continuous education with breaks for helping at time of need such when the acorns needed collecting, and if harvesting and gleaning was continuing beyond the school's Harvest Holiday in the summer. In fact the school holiday was not set to a particular time, but a month's holiday was taken once the local harvest had started, so that the

younger members of the family were obviously meant to help in the various harvesting activities.

The various Factory Acts, beginning with the Act of 1844, mostly concerned themselves with child labour in the textile and other major manufacturing industries and would have had little impact on the lives of most children in this rural part of Hertfordshire at this time, as it wasn't until the Factory Act of 1891 that the minimum age at which children could be set to work was raised from ten to eleven.  At the time of this census, 1851, although there was some legislation in place, by today's standards it was meagre; with the 1844 Factory Act reducing the hours of work permitted for children between the ages of eight and thirteen to six and a half a day with no child being able to work more than ten hours a day.

What hours the working children of Leverstock Green had to endure we do not know, but we can tell from the census that the children were not badly off compared to their more industrially based cousins, particularly given that nearly 4/5 of the occupations of those  aged 16 and under are either given as blank or as scholars.  Those given as scholars equalling 34% of the total, and those without any occupation listed equalling 45%. Of the  107  "scholars"  as one or two  are as young as  two years of age it seems unlikely they would have been learning much!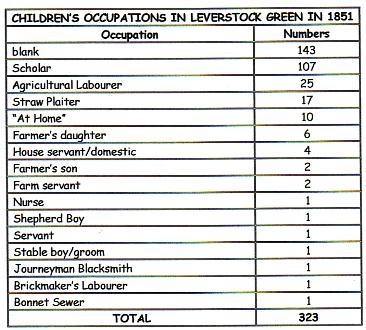 Of those children who were gainfully employed, two were as young as 7, and both were employed as Straw Plaiters.  However, most of those with specific occupations listed above were in fact aged 11 and over.  From which we can conclude that the children of Leverstock Green on the whole would have enjoyed their childhood and not have been subjected to too much hard labour.

References:

1851 Census

Previous researches undertaken for Leverstock Green Chronicle

Website: www.spartacus.schoolnet.co.uk

Hertfordshire Inns Part 2, by W. Branch Johnson. Pub. 1963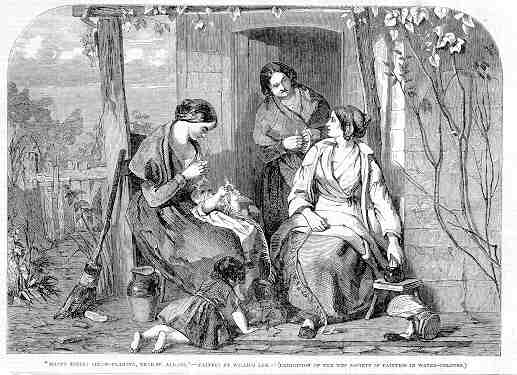 Happy Times - Straw Plaiting near St Albans from Illustrated London News, May 14th.1853

(Artist William Lee)  ( With thanks to Chris Reynolds)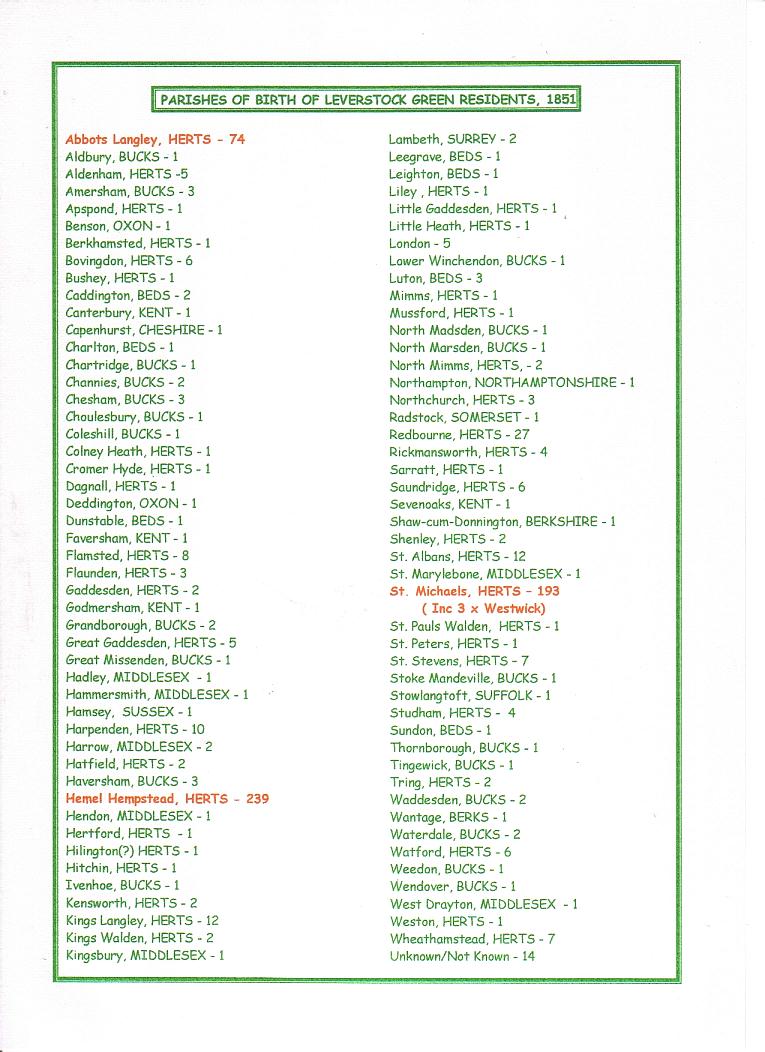 Population Migration to Leverstock Green Prior to 1851

Looking at the returns for the Leverstock Green area and undertaking further calculations and analysis of the resulting figures, it can be seen that the vast majority of the population can be said to be native, if not to the village (which because of the division between 3 parishes is not easy to define from the information as given at the census) then at least to the immediate area.

However, before going further into my analysis I should explain that I had to make certain assumptions about the places of birth given, and how I calculated the distances etc.  First of all it must be remembered that this census was taken at a time more than a century ago prior to the reorganisation of local government and the subsequent re-drawing of the county boundaries, so that not all the counties given are as they are today. For example Charlton was given as being in Bedfordshire, whereas today it is in Oxfordshire; and Wantage is given as being in Berkshire when today it is also in Oxfordshire. Similarly several locations such as Hammersmith Marylebone & Lambeth we would today consider to be within London.  Middlesex no longer survives as a county at all except to cricketers (MCC) and as a name within a few institutions.

A simple analysis of the counties of birth as shown (see pie-chart) shows 89% of Leverstock Green residents came from Hertfordshire. But Leverstock Green is in West Hertfordshire and not only are several places in the county a fair distance away, many other places in neighbouring counties are less than 10 miles distant.  I therefore determined to see how far away people had come from if not born immediately locally.

The three "local" parishes were Abbots Langley, Hemel Hempstead and St. Michaels, and 506 residents gave these three parishes (or Westwick) as their place of birth.  This represents 67.8% of the then population, but even that doesn't necessarily give us an accurate figure of those born within the village, as this figure could have included folks born outside Leverstock Green. e.g. someone born in Hemel Hempstead High Street would not have come from Leverstock Green.  Without tracing the Baptismal records of each of the residents involved it would be impossible to say where within the parish they were born  if indeed it the register recorded any useful information.  Some clerics merely put the name of the parish of birth when entering details; others were more precise.  I therefore decided to discover who had come from within a 25 mile radius, and that I would break those figures down into 5 mile units.

Even this calculation was not straight forward as the names of places given were not entirely accurate so that I had to make certain assumptions.  First of all given that the greatest majority of the residents had been born within 10 miles of the centre of the village I added those residents for whom their place of birth was unknown to that list.  I used a combination of accurate recent AA road Atlas (2000) and The Readers Digest Complete Atlas of the British Isles (published 1965) to locate and then measure the straight-line distance from one place to another. The latter advertised itself as listing all the places within the British Isles. Even so a couple of places proved impossible to locate altogether: Little Heath, Herts and Waterdale, Bucks.  I therefore made the assumption that the former was within 10 miles and the latter within 15 miles.  In addition I made the following assumptions:

·

Gaddesden was the same as Gaddesdon Row
·

Hadley, Middlesex was the same place as present day Hadley Wood in Greater London
·

Harrow & Harrow on-the-Hill are the same place.
·

Hilington was the same place as Hillingdon
·

Ivenhoe was Ivinghoe
·

Leegrave, Beds was the same place as Leagrave, Beds
·

Leighton was the same place as Leighton Buzzard
·

Mimms was the same place as South Mimms
·

Mussford, Bucks was in fact Moulsford in Berkshire (virtually on county border.)
·

North Mimms was the same place as South Mimms
·

North Madsden and North Marsden were both North Marston in Bucks
·

Saundridge was infact Sandridge
·

Shaw-cum-Donnington, Berks, was the same place as Shaw near Newbury
·

Sundon, Beds, was either Sandon in present day Herts, (near Royston) or Sandy in Bedfordshire. I assumed the former more likely.
Distances were then calculated on these assumptions and the table and pie chart below produced.

From these it can be seen that 80% of Leverstock Green residents in 1851 were born within 5 miles of the village centre, and a massive 94% within 15 miles.  Only 3% were born more than 25 miles distant. 

The furthest migrant was the imcumbent of the newly built Holy Trinity Church, the Rev. Richard Richardson M.A. who had been born in Capenhurst in Cheshire.  In fact it seems reasonable to assume that the Rev. Richardson had resided in Kent at some stage as his wife came from Canterbury, and their nurse and housemaid from Godmersham and Faversham in Kent respectively.  Their baby daughter had been born in London.  Looking at the rest of the 22 souls who came from further a field than 25 miles, they were as follows: (4)

·

Harriet Turner, wife of the Police Constable (he was born in Bushey), born in Stowlancroft in Suffolk
·

Mary Elborn, wife of a locally born milkman, born in Radstock Somerset
·

Richard Webb a carpenter, born in Deddington.
·

His wife, and daughter (both Hannah) and son (Thomas, also a carpenter) born in Tingewick and Haversham in Buckinghamshire
·

Joseph Lea, a Grocer & Gardener born in Benson, Oxfordshire
·

His wife Elizabeth Lea was born in Caddington.
·

Sarah Smith, wife of local farmer William Smith (North End Farm), born in Charlton (Beds/Oxon)
·

Another and presumably unrelated Sarah Smith, wife of local farmer Joseph Smith of Leverstock Green Farm, born in Wantage.  [From the ages and places of birth, it can be deduced that William & Joseph Smith were certainly not brothers, despite the lands of their farms running together.]
·

Ann Jeffrey, Housekeeper to Thomas Franklin the Brickmaker at Tile Kiln Farm
·

William Bowra, gamekeeper (pos to Earl of Verulam as at Beechtree), born in Sevenoaks in Kent.
·

Harriet Bowra, William's wife from Lambeth  (Their children born locally)
·

Elizabeth Chutter, Housemaid at Chambersbury.
·

Charlotte Friend, the cook at Chambersbury born in Northampton.
·

Joseph Herridge, and agricultural labourer (married to a girl from Hemel) from Shaw-cum-Donnington
·

Matilda Cooper, wife of a local agricultural labourer, born in Thornborough, Bucks.
As can be seen from the above, 14 out of the 22 (63.6%) distant migrants came from just five households.  Of those five households, the Vicarage (click here for picture of house) & Chambersbury (click here to learn more about the Manor of Chambersbury, owned by John Dickinson in 1851, and here for picture of the house) were of much higher social status than the rest of the village. In addition it seems likely that the Bowras worked for the Earl of Verulam on the Gorhambury estate (Beechtree cottages belonging to the estate).  Similarly the Webb household also resided at Beechtree, so it is highly probable that Richard Webb was a carpenter employed on the Gorhambury estate. (Click here for details of the importance of Gorhambury to Leverstock Green.) It therefore seems likely that over half of the migration into Leverstock Green was as a result of either the social status of the persons concerned, or their employers, with 54.5% of those who had migrated from further a field than 25 miles being attached in one way or another to a high status household.
Whatever the reasons for the various in-migrations, it would seem that like many other rural communities around the country, in 1851 Leverstock Green was essentially a small community made up of families who had been resident in the area at last for two generations and probably more.  It would therefore have been a very close-knit community.

Barbara Chapman

24 August 2002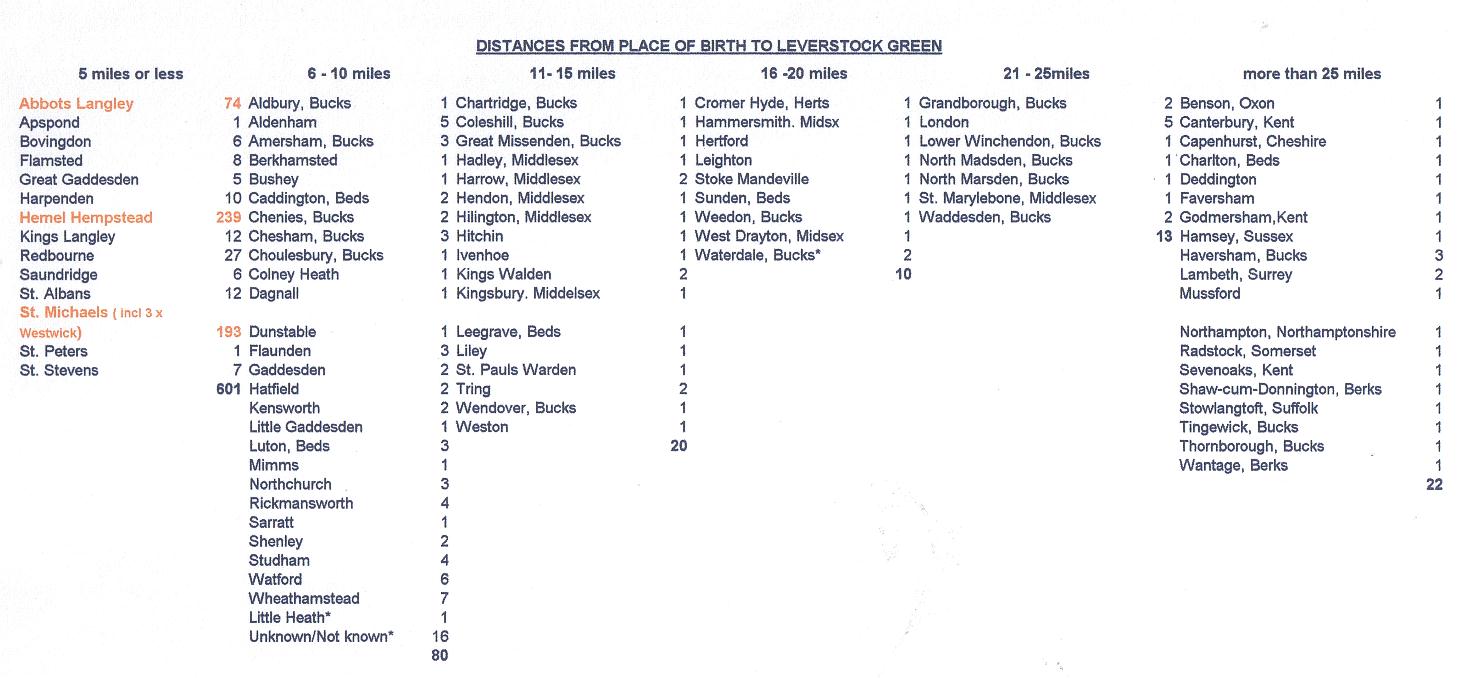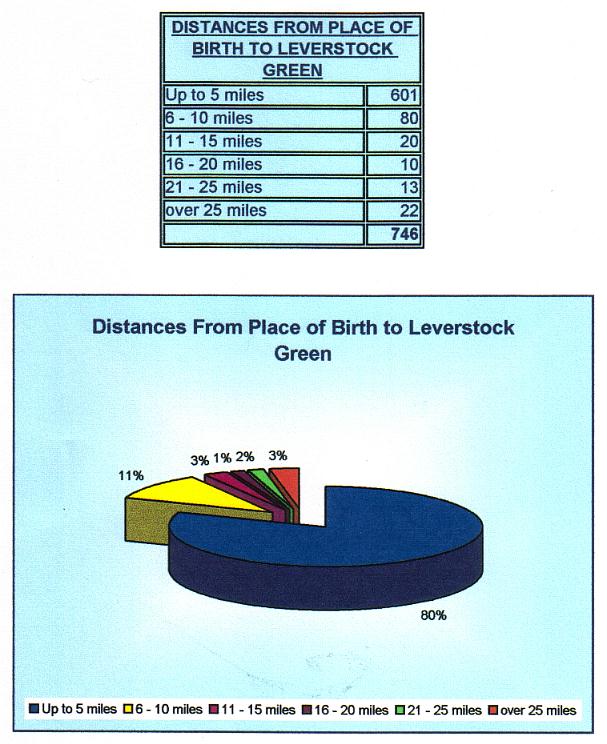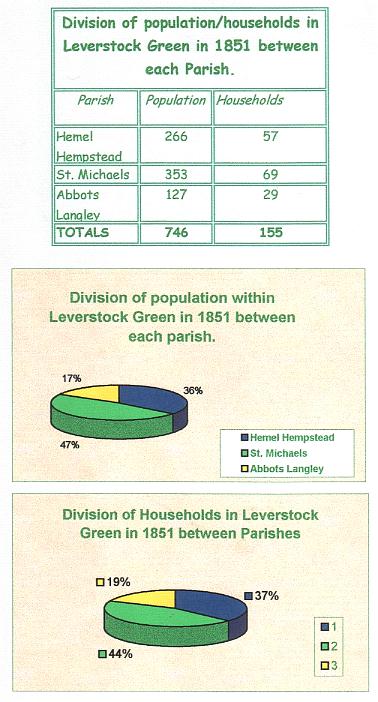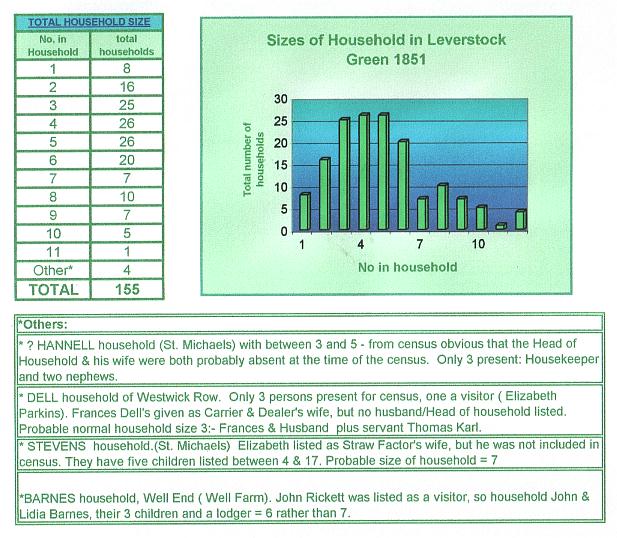 Sizes of Household in Leverstock Green in 1851

As had been shown previously, Leverstock Green was made up of 155 families in 1851. Today (2002) the number is in excess of 2500 different households.  A careful breakdown of the nature of each household as given in the 1851 census provided some interesting information about the families concerned.

Given that the population at the time of the census was 746, the mean average of persons per household within the village was 4.8, with the median working out at 5.  Given the high birth rate and a general perception of Victorian families having large families (Victoria & Albert had 9 children) I was surprised that the average figure was so relatively low even given infant mortality rates.  However it would seem to be roughly on a par with both the national average for the time and the figures as given for St. Michaels (rural) as a whole.  [National average 4.63, and the mean household size for St. Michaels rural = 5.43] [S362] The actual spread of household sizes can be seen clearly in the table and chart below with only 5% of households (31) accommodating seven or more persons; and with 48%, nearly half having household sizes similar to those we have today, i.e. of four persons or less.
The largest household in Leverstock Green in 1851 was that of Joseph (42) & Mary (34) BARNES who lived in Westwick Row.  Their household comprised in addition to themselves, their seven children ranging in age from 0-12 and Joseph's two step-daughters aged 15 & 14. (Charlotte and Mary MILLARD.) These girls were probably Mary's daughters by a previous marriage.

Other large households included:

·

the ORCHARD family at Woodwells Farm where there were 10 persons all-together; Charles & his wife     Georgina, their four daughters aged between 8 and 19, their son aged 14 and three servants aged 11-19. 
·

The WILSON family living in the centre of Leverstock Green: Benjamin & Sarah with their five sons aged 2- 21 and their three daughters aged 4 -19
·

The FINCH family at Corner Farm: Joseph & Jane with four daughters aged 5 -18,  three sons aged 2- 22   and two servants.
·

The GINGER  family (who lived in the centre of Leverstock Green) with their two sons and two daughters aged 2- 9 and four others listed as daughters and sons in law aged between 13 and 22. This term was sometimes used to refer to step-children as well as the spouses of ones children, and from the ages of              the children that would seem to be so in this case.  Presumably therefore Jane Ginger had previously            been Jane Ashwell.
·

The PARTRIDGE family at Breakspears. The household comprised  John and Hannah, their seven children aged 3  21 and a 2-year-old granddaughter.  Whether Sarah A. was the illegitimate daughter of          one of their two unmarried elder daughters, or the daughter of a son living elsewhere or dead is                      impossible to say from the census.  No other Partridges are listed as living in Leverstock Green.
There were 25 adult only households, (15.5% of the total) eight of which were single person households.

In the calculations I have used 21 as the differential between adults and minors, as until as recently as 1970 one did not "come of age" until reaching one's 21st birthday.  However, as today, young persons of a much younger age played an adult part in the world with many earning their livings from a very much younger age. (See item above on child labour).  It is still possible for young people (with their parents' consent) to marry from the age of 16, and I believe, though I have been unable to confirm when this practice was outlawed, that it was permitted for girls as young as 12 and boys as young as 14 to marry.  Of the 155 households 72.9% (113) had at least one child under the age of 16.

Overall, the situation in Leverstock Green does not appear to have been much different from the situation nationally.

Barbara Chapman

3 September 2002

Click to link to the following

Graphic links (photographs etc.)

20th Century Leverstock Green

Glossary